Low Pro Gangsters "MixTape"
LPG Radio "Unreleased Exclusive Tracks"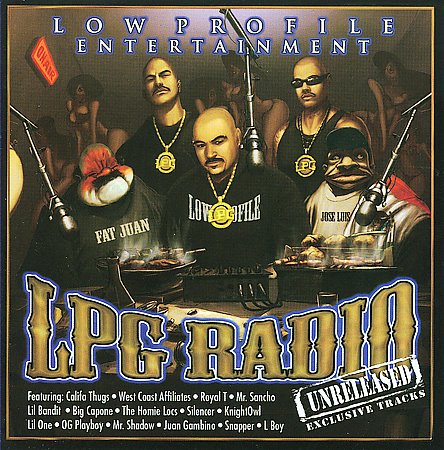 1 L.P.G. Radio Intro
2 Califa Thugz Part 3 Exclusive
3 You Just a Bitch To Me
4 L.P.G. Radio Sex Talk
5 Fuck The Rap Game
6 Taking Putos Off The Map
7 L.P.G. Radio "Sancho Talk"
8 Make Love To You See All 5
9 Put It Down On You
10 L.P.G. Radio "L Boy And Snapper Despute"
11 Sur Walk
12 Hate In Their Eyes
13 L.P.G. Radio
14 Ooh Baby (Different version)
15 Shake That One More Time O.G. Playboy
16 L.P.G. Radio See All 2
17 Tha World Is Mine
18 This Is Lowpro
19 Gangster Bitch Classic Lowprow Unreleased Track
20
Www.Lowprofilerecords.Com
See All 2
Chicano Rap Instrumentals, Vol. 2
Genero:Rap Chicano
Tamaño:77.8mb
TEMAS
01. Lil Rob - Unreleased Lil Rob Beat (Instrumental)
02. LGP - Unreleased LGP Beat (Instrumental)
03. Silencer - Unreleased Silencer Beat (Instrumental)
04. Mr. Sancho - Mr. Sancho Beat (Instrumental)
05. Lil Bandit - Lil Bandit Beat (Instrumental)
06. OG Playboy - OG Playboy Beat (Instrumental)
07. Frost - Frost Beat (Instrumental)
08. Royal T - Royal T Beat (Instrumental)
09. Los Borrachos - Los Borrachos Beat (Instrumental)
10. Low Pro Gangsta - Low Pro Gangsta Beat (Instrumental)
11. Payaso - Payaso Beat (Instrumental)
12. Los Soldados - Los Soldados (Instrumental)
13. Ms. Sancha - Ms. Sancha Beat (Instrumental)
14. Califa Thugs - Califa Thugs Beat (Instrumental)
15. Lil Rob - Lil Rob Beat (Instrumental)
16. Low Profile Records - Unreleased Beat (Instrumental)
17. Low Profile Records -
www.lowprofilerecords.Com
(Mix)
18. Low Profile Records - Untitled (Bonus Track) (Instrumental)